Why you should shop with us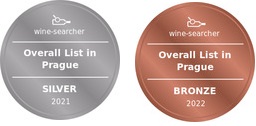 Passion, profesionality and personal touch.
We are not a marketplace as many of online stores are. All wines which we sell were personally picked to our portfolio by us. Every single bottle has own story why you can purchase it from us and every single winery has always personal relationship with us. We are proud that we can call many of our wineries friends. California wines are our passion and love.
Awards from the prestigious Wine-Searcher.com

For two years in a row we have been ranked in the evaluation of the scope of the overall portfolio of the prestigious and globally recognized search engine www.wine-searcher.com. It is both amazing and wonderful to be ranked at the top for overall portfolio scope, even though we are focused on importing California wines.
Our portfolio is really wide and you can choose from many options.
If you are a fan of any California varietal, you will definitely find your personal love in our portfolio. Especially if you are looking for Cabernet Sauvignon, Zinfandel, Pinot Noir or Merlot from red wine or for Chardonnay or Sauvignon Blanc from white wine. You can find also so nice blends or unique varietals such as Albarino or Carignane.
You can choose from many appellations (AVA´s). Do you like Napa Valley, Sonoma Valley, or such interesting places like Lake County, Monterey or Mendocino? We have them all and many many more. What we personally love are mountain AVAs as Spring Mountain District, Howell Mountain or Mount Veeder.
We ship all around Europe.
Anywhere in Europe you stay, our wine can easily reach you in a couple of days. You can choose from DHL, UPS or your local delivery company. All orders are delivered usually between 2-6 business days.
All orders over €250 are shipped by DHL or your local delivery company for free anywhere in Europe! (excl. Liechtenstein, Malta, Azores and Cyprus)
All orders over €600 are shipped by UPS for free anywhere in Europe!
All orders are safely packaged and protected to any kind of damage. Insurance to full price is a matter of course.
You can trust us.
We have a tradition since 2011.
We are under VISA Verified and MasterCard SecureCode registration.
We have confirmed PayPal account.
We are based close to Prague in Czech Republic and you can personally visit us.
We have high reviews rating on TrustedShops
We offer extras.
We do big wine tastings in Prague.
We bring our winemakers to Europe and do the tastings and Winemaker´s Dinners. Our main spots for these events are Prague, Bratislava, Münich and Hamburg.
We do special offers to our customers.
So do not wait, check our store and become our customer and you will get amazing wine and your invitations.
Cheers!

Your CalifornianWines.eu