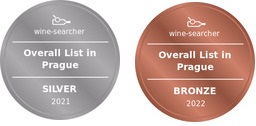 As it usually happens in life, I came across amazing California wines by accident!
During my career, I was surrounded more and more often by wines and used them as a beautiful gift for my clients. Regarding the fact that I've met some great people, I also wanted to give them a great wine. Wine which impresses and appeal them. Thanks to that, I found the amazing wines from Napa Valley, specifically Cosentino winery, which at that time was one of the best to taste in California.
Some time has passed, and I've found that it is really difficult to get a good quality California wines in Europe. I wouldn´t expect that and I realized that maybe I should import wines directly from California by myself. With a big help of American embassy in Prague, I brought the first shipment of wines. It was 2011 and a this "new phase of my life" just began.
Working with California wines was exactly what I was looking for in my life. It was full of challenges and I had to break down a lot of prejudices, but at the same time it was full of great experiences when I saw how the wine entertains my clients. I am not going to lie - even trips to California are a great experience and it can't be even considered as a job.
Our mission was clear from the beginning. Private clients, restaurants, and e-shop as our showroom. We have imported mainly boutique wineries from the beginning and important names as Peter Franus Wines, Hendry Ranch Winery and Mettler Family Vineyards. Through the tastings, we've reached the subconscious of many customers and professionals from the industry and our wines began to appear in a famous restaurants. George Prime Steak restaurants in Prague and in Munich were the pathrider in this direction, where we are still the exclusive supplier of California wines.
Thanks to such a great development, we've gradually added more significant names, such as Silver Oak or Chateau Montelena and we became one of the main distributors of great California wines in Central Europe.
The year 2020 will remain in memory of all humans of our planet. It brought one of the most difficult trials of modern times and for many companies it was a time for quick and often tough decisions. For our company, it meant a complete change of existing direction. Tastings and restaurant deliveries disappeared and only our e-shop and private customers has remained. It was a necessary to decide what will be the next step.
My decision of company's further development was crystal clear to me. Although it's a bit crazy goal - be number one in Europe! To make CalifornianWines.eu the first thing that comes to mind if you are talking about California wine anywhere in Europe. Your wine delivery can be easy, quick and cheap no matter where you are. Today, there is a wide selection of California wines from various wineries on our website. We can deliver throughout continental Europe in a few days for very affordable price. Or even free of charge for certain amount of your order. So, I believe we are approaching this crazy goal.
Finally, there is one more important point. Personal contact and cooperation directly with winemakers have always been essential for me. That's why you will only find wineries for which we are the official importer and distributor.
I wish you many great experiences with great California wines.
Jan Ecer
founder
CalifornianWines.eu