"We've always taken an active role to preserve the health of the land. Our first obligation is to produce delicious wines and we believe this is maximally achieved through healthy vines."
 - Founding Winemaker / CEO, Eileen Crane, Domaine Carneros
---
"People want to do the right things but need a roadmap to get there. Now we have that map; how we use it to take the next step is entirely up to us."
 - Hugh Davies, president of Schramsberg Vineyards
---
"This is how we have always farmed. It's the only way to do it right."
 - Brooke Shenk, winemaker St. Supéry Estate
CARING FOR NATURE ELEVATES QUALITY & EXPERIENCE
The trend of viticulture, which primarily takes into responsibility for healthy soil and sustainable farming, has been close to California winemakers since the very beginning of vine growing. Nevertheless, their "Green Farming" system has been constantly improving over the years.
In 1998 the Environmental Protection Agency declared the Napa River impaired and the State Water Board set reduction standards for "Total Maximum Daily Load" or TMDL of fine sediment into the river. In response, the Napa Valley Vintners (NVV) trade association led collaborative efforts with industry partners, community nonprofits, regulatory officials and Fish Friendly Farming to develop Napa Green Certified Land. The first property was certified in 2004.
In 2007, building on the success of the Napa Green Land program, NVV collaborated with Napa County and the California Green Business Program to develop the Napa Green Certified Winery program, creating a comprehensive, soil-to-bottle sustainability certification.
Napa Green serves as a catalyst and facilitator to grow certified sustainable, responsible businesses committed to environmental stewardship and climate action in Napa County.
---
WHAT SUSTAINABILITY MEANS?
"Sustainable" refers to several different practices that are not only environmentally helthy, but also economically viable and socially responsible. Within this general classification, there are several essential procedures that certified winemakers follow.
For example, the use of purely natural products for weed and pest control is important, with winemakers paying special attention to the natural health and biodiversity of the soil. They also practice fish-friendly farming practices, covering crops to minimize erosion and sedimentation of local waterways. Winemakers are also incorporating 50 percent of biodiesel into their agricultural operations to reduce total carbon emissions.
 No less emphasis is placed on social justice and sustainability, care for workers, relations with their surroundings and a return to a healthy community.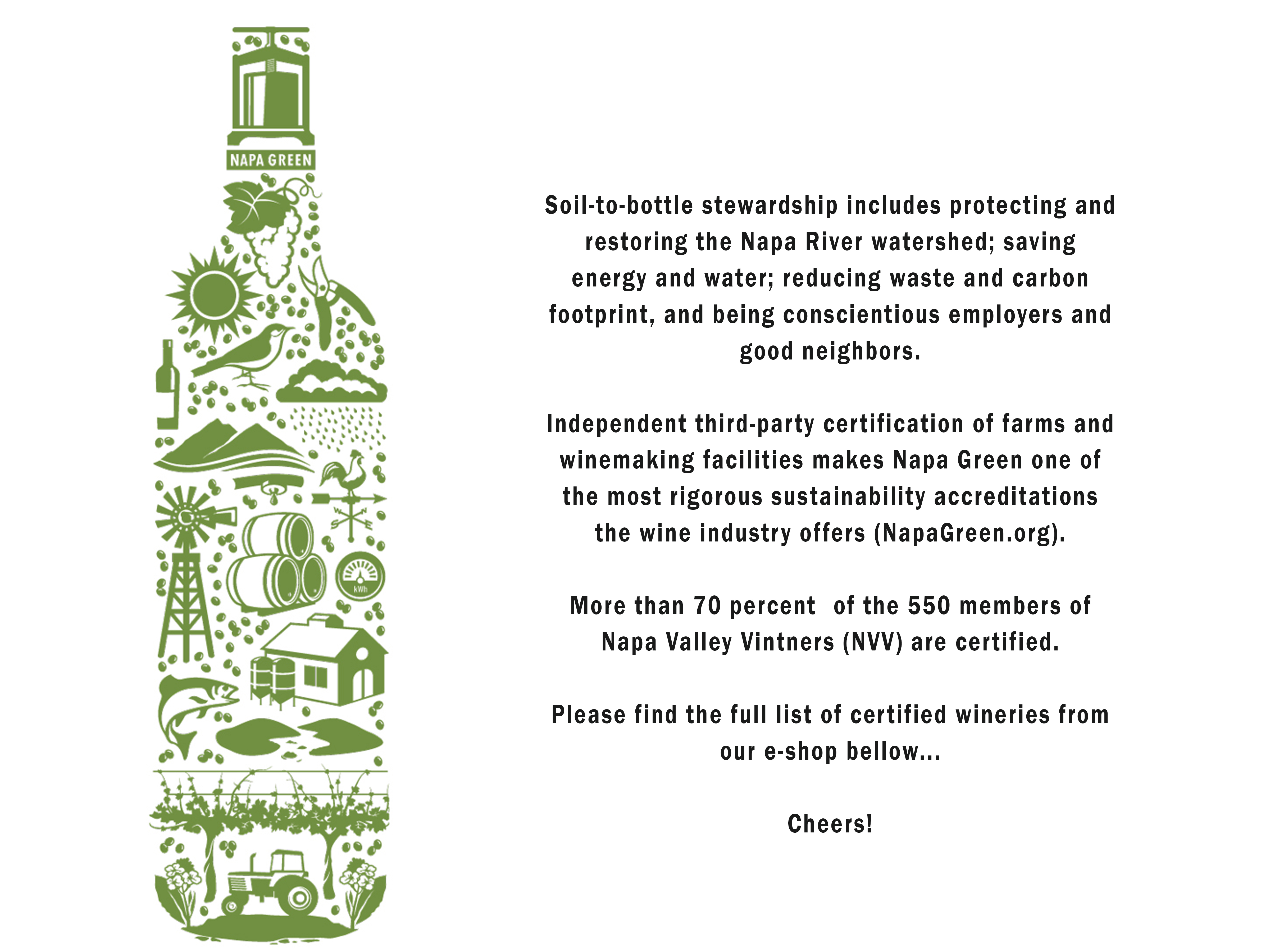 ---
WHAT IS NAPA GREEN VINEYARD?

Napa Green Vineyard certification provides a pathway for growers to improve soil health, become carbon neutral to negative within six to nine years, and increase the resilience of vineyards, businesses, and our community.

The Napa Green Vineyard certification standards have six core elements:

 

Social Equity, Justice & Inclusion
Implementing Carbon Farming &
Regenerative practices
Irrigation Assessments & Water
Use efficiency
Tree & Forest Preservation and
Enhancement (where applicable
Adherence to a Prohibited &
Restricted Pesticides list
Conservation Burning or Burning
Alternatives

 

 

 

 

WHAT IS NAPA GREEN WINERY?

Napa Green is one of only four sustainable winegrowing programs nationwide offering the opportunity for comprehensive soil-to-bottle certification in both the vineyard and winery. 40% of all of the certified sustainable wineries in CA are in Napa County.

Napa Green wineries implement more
than 100 sustainability and stewardship standards to:

 

Save energy & water and increase efficiency
Prevent waste through recycling,
composting and environmentally
preferable purchasing
Reduce GHG emissions and the
winery's carbon footprint
Commit to social equity
The whole facility is certified from
production to hospitality
---
List of Certified Wineries from our E-shop:
| | | | | |
| --- | --- | --- | --- | --- |
| | | |   |   |
|   | |   |   |   |
|   |   |   |   |   |
|   |   |   |   |   |
|   |   |   |   |   |
USEFUL LINKS: